Cute Elements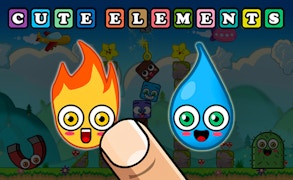 Cute Elements
Description
Welcome to Cute Elements, a fun and challenging game where strategy meets novelty. In this puzzle game, your mission is to match different elements and gain points. With various levels increasing in complexity, you must find ways to link elements in the right order to achieve high scores. It's an addictive game filled with unique challenges that will test your skill and mental agility.
How to play
Playing Cute Elements is simple yet engaging. You need to tap on an element and then choose another similar one in close proximity for them to link and disappear, gaining points in return. Progress through the levels by achieving specific objectives outlined at the start of each level. As you advance, the game gets more complex and captivating, thus testing your strategic skills.
Tips and Tricks
To excel in Cute Elements, focus on creating larger connections of similar elements as this gives more points than connecting only two or three. Also, don't rush - take time to consider all possible combinations before making a move. Remember, planning is vital for higher scores!
Features
Addictive gameplay: The engaging puzzle style keeps you hooked for hours.
Progressive difficulty: Levels become more complex as you progress, keeping the game challenging and fun.
Cute Graphics: The colorful elements with adorable graphics add a fun charm to this exciting puzzle game.
Suitable for all ages: Its simple mechanics make it playable for everyone, regardless of age or gaming expertise.
What are the best online games?