Crypto Crush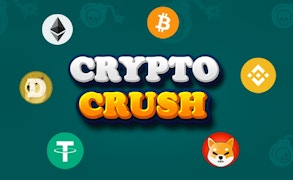 Crypto Crush
Description
In Crypto Crush, immerse yourself in a vibrant and engrossing match-3 experience themed around the world's major cryptocurrencies. This digital game intertwines the thrill of classic match-3 gameplay with the high-stakes atmosphere of cryptocurrency trading. Match identical coins to break through the levels and keep your portfolio soaring high in this thrilling game of strategy and chance.
How to play
The gameplay is simple: swap adjacent crypto coins to make rows or columns of three or more identical tokens. Achieving this will cause them to disappear, allowing new ones to fall from above. Try to create special combinations for explosive effects and higher scores! The game progresses by completing level-specific goals within a given number of moves.
Tips and Tricks
Strategy is key in Crypto Crush. Plan your moves carefully to maximise matches and avoid running out of turns. Special combos can help clear larger areas at once, so be on the lookout for opportunities to create them. Remember, each crypto token has unique properties!
Features
A unique blend of match-3 strategy gameplay with cryptocurrency theme
Intricate levels with progressively challenging goals
Special combo effects for explosive, high-scoring matches
An engaging economy system that rewards strategic play
Vibrant graphics and sound effects that keep you engaged throughout your trading journey.
What are the best online games?