Crossbar Challenge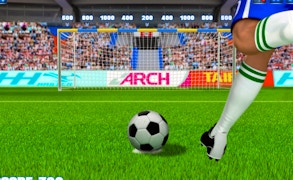 Crossbar Challenge
For fans of soccer games, ball games and football games, Crossbar Challenge offers a new level of tantalizing soccer experience that will have you glued to your screen. This HTML5 Sport Game introduces a fresh twist to the familiar excitement of penalty games, encouraging you to test your precision and power in every shot.
In Crossbar Challenge, scoring a goal isn't the primary objective. Yes, you read it right! Unlike other conventional soccer games, your aim is to masterfully hit the crossbar. You might think it's a cakewalk, but let me assure you, it's not. This demanding variation of conventional football games requires extreme levels of accuracy and timing.
What makes this game even more thrilling is the absence of a goalkeeper. It's just you, the ball, and the crossbar – a trifecta that demands perseverance and patience. The solitary challenge against the inanimate crossbar makes this experience uniquely challenging and dicey, demanding perfection at every strike.
Crossbar Challenge is a must-try for those looking for variety in their typical football games. It's not just about scoring goals anymore; it's about hitting them where many fail to reach. So gear up, take your shot, and brace yourself for an addictive encounter with the crossbar.
If you're yearning for an eccentric deviation from traditional soccer games, then Crossbar Challenge is the game for you. This entrancing blend of simplicity and complexity promises hours of challenging entertainment. So why wait? Give it a shot and experience first-hand the thrill that comes with conquering the seemingly insurmountable crossbar challenge!
What are the best online games?