Crazy Taxi Simulator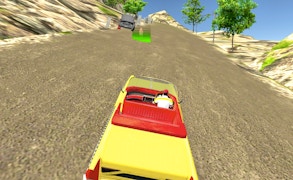 Crazy Taxi Simulator
Welcome to the wild world of Crazy Taxi Simulator, where the fast-paced thrills of driving games collide with the precision challenges of parking games. This game is not your average fare, it's a concoction of adrenaline and precision that few car games offer. Strap yourself behind the wheel and prepare for a gaming experience that's as unpredictable as its mountainous terrain.
Right off the bat, you'll find yourself driving a vintage top-down car doubling up as your taxi – an unexpected but charming touch separating Crazy Taxi Simulator from other simulator games. Picking up passengers alongside the road on mountains is your task, but this is far from just another day at the office. The terrain is treacherous, and every successful pick-up & drop-off feels like a significant achievement. The ticking clock pushing you to balance speed with safety just adds to the tension.
The craziness doesn't end there - unpredictability lurks at each turn. A raging elephant could cross your path at any moment, forcing you to think quickly and react even quicker. The result? A game that amalgamates elements from various genres into a compelling cocktail of chaos and fun.
Crazy Taxi Simulator is a delight for gamers looking for more than just driving but also a thrill ride. It effortlessly blends elements of parking simulation with fast-paced action demand split-second decision-making skills - all wrapped in engaging gameplay. This game keeps you on your toes and promises countless hours of heart-pounding fun. It's crazy, it's enjoyable – it's Crazy Taxi Simulator!
In conclusion, Crazy Taxi Simulator stands out amongst other car games due to its unique blend of racing and simulation elements, delivering both heart-racing excitement and precision-based gameplay. Don't miss out on one of the craziest taxi driving games around!
What are the best online games?