Crazy Intersection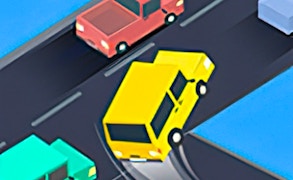 Crazy Intersection
Ready to jumpstart your engines for an exhilarating puzzle game? Crazy Intersection, a new entrant in the world of car games, is all set to fuel your gaming adventures with its out-of-the-world gaming mechanics and intriguing level designs.
In the heart of this addictive game lies a unique blend of strategy and skill. The game is filled with tons of levels that constantly adapt to your progress, ensuring that each cleared stage propels you into deeper complexity. The difficulty level steeply escalates, triggering your strategic reflexes while testing your adaptability at each intersection.
Crazy Intersection is not just a regular car game - it's an exhilarating roller-coaster ride of relentless fun and engagement. And for all you automobile aficionados out there, here's the real deal – you get to see an array of stunning cars! From sleek sports cars to bulky trucks, this game is a miniature yet comprehensive simulation of the automobile world.
This addictive game is as much a test for your tactical prowess as it is an exhibition space for its diverse car collection. This unique aspect balances out the challenge and discovery elements nicely, making Crazy Intersection a standout in the realm of skill games.
In essence, Crazy Intersection successfully combines the thrill of maneuvering through treacherous roads with the satisfaction of solving complex puzzles. Its strategic gameplay merged with excellent visual detailing makes it one ride you wouldn't want to miss. Buckle up, rev up those engines and get ready to lose yourself in this addiction called Crazy Intersection.
What are the best online games?