Crashy Racing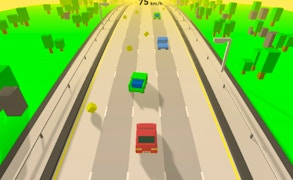 Crashy Racing
Immerse yourself in the vibrant, adrenaline-pumping world of Crashy Racing, one of the finest offerings in the realm of pixel games designed for those with a need for speed. A game that has shattered the conventions of traditional car games and driving games, by focusing on skillful maneuvering rather than just raw speed.
Crashy Racing is a masterpiece that seamlessly combines the nostalgic charm of pixel art with the thrill and excitement of racing. Swipe left, swipe right; it's all about careful navigation and strategic lane switching to evade slower vehicles. But don't get too comfortable - swipe up, and feel your heart pound as your car gains speed at an exhilarating pace.
This game takes the classic themes of car games and flips them on their head. Forget about just rushing to finish lines; Crashy Racing rewards you for skillfully weaving through traffic, making it not just another title in driving games but a notch above as one of the leading Skill Games.
The simplicity is deceptive - beneath its pixelated exterior lies a game that demands focus, quick reflexes, and strategic thinking - like a chess match at 200mph! It is easy to pick up but challenging to master, ensuring you are always on your toes.
In conclusion, Crashy Racing stands as a testament to how engaging and thrilling simplicity can be. This is a must-play for all gaming aficionados who love racing, pixels, and a good challenge. So gear up and get ready because Crashy Racing isn't just about moving forward quickly – it's about moving forward skillfully!
What are the best online games?