CPL Tournament 2020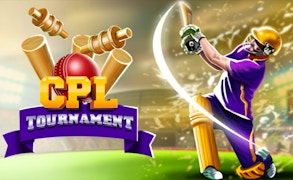 CPL Tournament 2020
As the world of ball games has taken a hypnotic leap with the arrival of cricket games, getting your hands on CPL Tournament 2020 is a must for every cricket enthusiast. Infused with captivating graphics and immersive sound effects, this game is certain to heighten your gaming experience and electrify your cricketing senses.
In CPL Tournament 2020, the journey begins with a single matches mode that prepares you for the grandeur of the actual tournament. An impeccable chance to don your helmet, pull up your pads and finetune those batting skills; this immersive game offers you a chance to be at the helm of an adrenaline-pumped cricketing venture.
Once you've refined your skills through single matches, it's time to plunge into the thrill of world cup games. Choose your favorite team and step into the battleground to compete against top teams in varied overs – 2, 5 or 10. With easy-to-use controls, just tap on the screen to swing that cricket bat and hit some smashing shots.
The game's structure requires you to win four matches before advancing to the quarterfinals, each match presenting a new target of a specific number of runs. Experience the pulsating excitement as every match brings new challenges allowing you to become an integral part of your team's journey towards securing that coveted championship title.
In conclusion, CPL Tournament 2020 offers an unmatched fusion of excellent graphics, heart-racing sound effects, dynamic gameplay modes and strategically designed matches which makes it an exemplary addition amongst cricket games. So players, buckle up! Grab your bat and get ready for some intense cricket action because it's time to become a part of this exceptional CPL tournament.
What are the best online games?