Counter Craft 3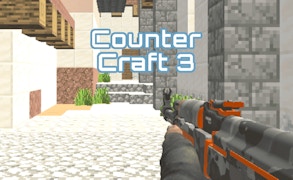 Counter Craft 3
Description
Dive into the exciting world of Counter Craft 3, an immersive first-person shooter set in uniquely designed block world maps. As you traverse each map, engage your opponents with a wide range of distinctive weapons and skins. Show off your shooting skills and eliminations, with the goal of achieving the most frags to secure victory.
How to play
In Counter Craft 3, players use mouse to aim and shoot while use WASD keys to move on the map. Your job is to eliminate as many opponents as possible, thus gathering the ever-crucial frags. The objective is to have the most frags by the end of each match.
Tips and Tricks
To conquer in Counter Craft 3, always be vigilant, study the map well for potential hiding spots and high vantage points. Maximise weapon damage by aiming for headshots. Keep moving, unpredictability can give you an edge against your enemies.
Features
Vibrant block world graphics that add a unique charm to your shooting battles.
An array of different weapons with unique skins to choose from.
Intricate maps that provide a thrilling stage for intense multiplayer battles.
The objective-based gameplay that rewards skillful eliminations with frags.
What are the best online games?