Color Hoop Stack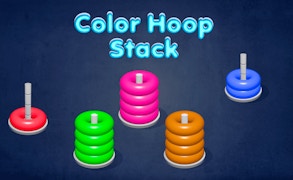 Color Hoop Stack
Description
Enter the vibrant world of Color Hoop Stack, a thrilling arcade game that challenges your dexterity and color coordination. The game presents players with a tower of multi-colored hoops and a base to stack them on. The goal is to stack hoops of the same color together, creating a stunning visual masterpiece while sharpening your decision-making abilities.
How to play
The controls are simple and intuitive: just click or tap on the hoop you want to move, and then click or tap on the desired destination. The tricky part is managing the color order, as only similar colored hoops can be stacked together. Progress by successfully organizing all colors into distinct stacks.
Tips and Tricks
Always plan ahead! A well-thought-out strategy can save you from difficult situations later in the game. Keep an eye on future moves. Try not to block lower hoops by indiscriminately stacking higher ones, and always aim for multi-hoop movements, which can drastically speed up your progress.
Features
Sleek Graphics: Enjoy crisp visuals with vivid colors that keep gameplay engaging.
Addictive Gameplay: The enticing mix of strategy and dexterity makes for endless fun.
User-friendly Interface:Navigate easily with intuitive controls suitable for both beginners and experts alike.
What are the best online games?
Tags