Classic Nonogram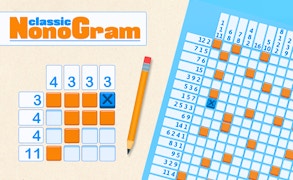 Classic Nonogram
Description
Get ready to challenge your mind with Classic Nonogram, a fascinating logic game that will astound Sudoku lovers. The game revolves around identifying which cells need to be filled or left empty. Assisted by row and column numbers, players are required to solve each puzzle wisely. Remember, you've only got three lives. With 12 different difficulties boasting 24 levels each, you're in for an exhilarating mental workout.
How to play
Your aim is to fill the grid correctly by utilizing the numbers on the rows and columns as hints. These numbers tell you how many consecutive filled cells there are in that particular row or column. But remember, the order is vital here. Use your mouse or touchpad to fill or blank out cells. Every wrong guess will cost you a life - lose all three lives, and it's game over.
Tips and Tricks
Aim for rows or columns with either high numbers or zeroes first as these are usually easier to solve. Don't rush - take your time analyzing each possibility before making a move, especially since incorrect guesses cost lives. Be attentive to every number series and how they relate to the grid's empty spaces.
Features
Mind-challenging gameplay: Perfect for enthusiasts of brain games.
Multiple levels: Game consists of 12 difficulties each containing 24 levels.
Limited lives: Mistakes come at a cost – you have just three lives before goal failure.
User-friendly controls: Just use your mouse or touchpad to play the game.
What are the best online games?