Classic Bowling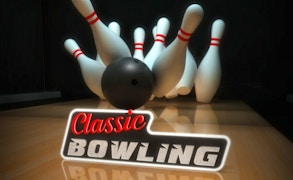 Classic Bowling
Welcome to the exhilarating world of Classic Bowling, the perfect digital rendition of one of the most timeless ball games. As a lover of sports games, you'll quickly find yourself engulfed in its addictive gameplay. The goal? Simple, yet ambitious: score as many strikes as possible and hit all pins. But brace yourselves, folks — this game is just as demanding as it is rewarding.
The real charm of Classic Bowling lies in its simplicity – no unnecessary frills here. The whole essence of the game centers around throwing your bowling ball down an impeccably rendered alley, smashing into a set of ten pins gleaming under the spotlight. It captures the mysterious allure that makes bowling simultaneously accessible and elusive, mimicking its real-world counterpart with scary accuracy.
One highlight to mention is Classic Bowling's beautiful 3D visuals that offer a thoroughly immersive gaming experience. Each bowling ball has a tangible feel to it — you can almost sense the weightiness as you swing your virtual arm back and release with just a swipe on your screen.
What sets Classic Bowling apart from other bowling games out there is its astonishing fairness. There are no power-ups or unachievable bonuses to distract you from your ultimate goal: scoring strikes and mastering your throw. Each play gives you an authentic feel of being inside a bustling bowling alley, where skill outshines sheer luck every single time.
In conclusion, Classic Bowling hits all the right spots for bowling enthusiasts and sports gaming fans alike. Its crisp graphics, smooth mechanics, fair system, and addictive gameplay make it a must-try for all lovers of sports-based ball games. If you're looking for an engaging sports game that offers hours of pure fun while still requiring real skill and tact, then Classic Bowling will not let you down.
What are the best online games?
Tags