Classic 1990 Racing 3D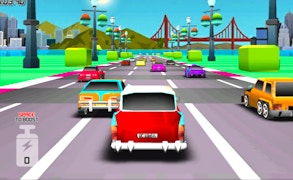 Classic 1990 Racing 3D
Strap in and rev your engines, retro gaming fans. In the high-octane world of Classic 1990 Racing 3D, you'll find yourself transported back to the golden era of car games, sliding behind the wheel for a brazen joyride through nostalgia. This love letter to driving aficionados captures the manic energy and time-loved charm of gaming's past.
This is not just another addition to the vast sea of driving games; Classic 1990 Racing 3D pays fitting tribute to its arcade predecessors from the 80's and 90's while serving up a fresh experience for today's gamers. You'll weave through traffic, gunning it down endless highways, gripping your controller as if it was your lifeline - an experience most reminiscent of those yesteryears' classics.
The throwback graphics are a delightful nod to pixelated past while the fluid controls remind you that you're indeed in the present. The detailed landscapes whizzing past your car windows are a testament to how far our gaming systems have progressed, yet retaining that brutally addictive quality that made those old-school car games so compelling.
The breakneck speed, challenging routes, and sheer exhilaration make this game an instant classic in its own right. If you've missed the thrill of classic racing games or if you're new to the genre looking for a great place to start - Classic 1990 Racing 3D is definitely worth taking for a spin.
In summary, Classic 1990 Racing 3D delivers an intoxicating mix of old-school flare with modern mechanics. It's fast-paced, thrilling, and offers an inviting route back into the world of retro-inspired driving games. So grab your virtual helmet, hit that virtual gas pedal and enjoy a blisteringly fast trip down memory lane.
What are the best online games?
TAGS