City Taxi Simulator 3d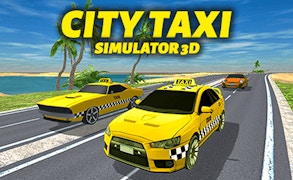 City Taxi Simulator 3d
Welcome to the vibrant and immersive world of City Taxi Simulator 3D, a gem among car games that offers an incredible fusion of driving games, parking games, and simulator games. This game takes the excitement to a whole new level with its real-life inspired scenarios and interactive environment.
The game exudes a delightful sense of realism making it more than just another face in the crowd of simulator games. The main objective revolves around picking up and dropping passengers, requiring strategic parking in the right direction, which introduces elements typical of parking games. What truly sets this game apart is the adrenaline rush you experience when trying to adhere to time constraints.
No other driving games can quite match up with the raw thrill offered by City Taxi Simulator 3D. While the real world may restrict your reckless desires, this game welcomes chaos as you break all the rules within the safe confines of its 3D landscape. This break-from-reality approach subtly contributes in amplifying your gaming experience.
In this ever-evolving genre of car games, City Taxi Simulator 3D stands tall with its unique blend of immersive visuals and engaging storyline. The game does not just test your driving skills but also pushes you to think on your feet, offering an exciting challenge that is sure to keep you hooked for hours on end.
In conclusion, City Taxi Simulator 3D is a must-play for lovers of car, driving and parking games. Its superior graphics quality, authentic sound effects, and dynamic gameplay make it one of the most enjoyable simulator games out there. So buckle up and get ready for an unforgettable taxi driving adventure!
What are the best online games?