City Taxi Driver Simulator : Car Driving Games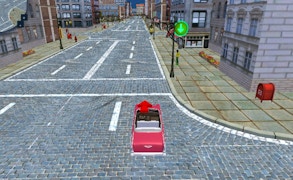 City Taxi Driver Simulator : Car Driving Games
Immerse yourself in the adrenaline-pumping world of City Taxi Driver Simulator, a thrilling blend of driving games and simulator games. As you take on the challenging role of a city cabbie, experience the realistic pressure of city driving like never before.
With its layered gameplay and dynamic environment, this game seamlessly merges the excitement of car games with the precision needed for parking games. Navigating through heavy traffic, intricate garages, and asphalt highways will truly test your driving prowess. The satisfaction of making it to your destination on time, amidst insurmountable traffic and hurdles, is exhilarating. This isn't just about speed - it's about strategy and skill.
Your responsibilities in this game don't stop at driving. As a taxi driver in this bustling city, you're tasked with picking up passengers from various parts of town - some areas might be dangerously congested or insecure. Each pickup and drop adds another layer to the narrative, making the game irresistibly engaging.
The added time challenge serves as a ticking bomb against your calm - one wrong move and you could lose it all. But as nerve-wracking as this sounds, there's an undeniable thrill associated with these high-stakes missions that sets City Taxi Driver Simulator apart from other driving simulator games.
In conclusion, City Taxi Driver Simulator: Car Driving Games presents an action-packed journey that keeps players on their toes from start to finish. With its compelling mix of strategy-based driving, parking challenges, captivating storyline and high-end graphics City Taxi Driver Simulator is not just another driving game – it's an enthralling journey for those who love to live life in the fast lane.
If you're someone who enjoys the thrill of racing through city streets amid heavy traffic while also facing a ticking clock - welcome to your new favorite obsession!
What are the best online games?