Chained Bike Racing 3D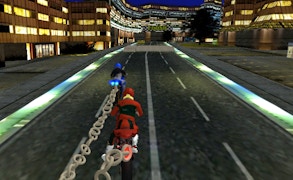 Chained Bike Racing 3D
Unleash your passion for speed with Chained Bike Racing 3D; a game that takes motorcycle racing to new heights! This dynamic entry to the world of motorcycle games guarantees an adrenaline-filled ride, pushing the boundaries of what you thought driving games could be. Be prepared to experience heart-stopping stunts and invigorating high-speed chases that will leave you on the edge of your seat!
This extreme motorbike simulation is not for the faint-hearted. The stakes are high, and only the most skillful riders will conquer this deadly racing challenge. Your task? Successfully manage your bike's speed to expertly negotiate fiendish obstacles while maintaining a death-defying chain connection to your paired bike.
In the vast arena of driving games, Chained Bike Racing 3D stands out thanks to its innovative mechanics and thrilling challenges. Unlike traditional motorcycle games where the objective is simply to cross the finish line first, this game tests your skills and strategies at every turn.
The gameplay principle may seem simple; however, successfully managing speed and timing requires keen focus and precision control – making this game incredibly addictive yet rewarding! If you think you've mastered all there is about motorcycle games, think again – Chained Bike Racing 3D is here to redefine your gaming experience!
This exhilarating 3d bike drifting adventure is versatile enough for gamers of all age groups. Its seamless combination of strategy, speed, and stunts makes it a must-play for any gaming aficionado looking to test their skills or simply enjoy a unique addition to their collection of motorcycle games.
Come join the thrilling world of
Chained Bike Racing 3D
, where every race brings new challenges and unforgettable adventures just waiting for you! Don't just be a spectator; become a racing rival in this intense motorbike simulation gameplay today.
What are the best online games?