Chain Cube 2048 3D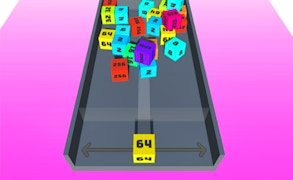 Chain Cube 2048 3D
Step right into the mesmerizing world of Chain Cube 2048 3D, a captivating explosion of vibrant colours and brain-teasing challenges. As an exhilarating addition to the realm of brain games, this app will have you glued to your screen, chasing the thrill of reaching the ultimate number - 2048.
Chain Cube 2048 3D is not just another run-of-the-mill number game. Its high-octane gameplay and visually stunning interface take traditional block games to an entirely new level. The concept is as simple as it is addictive: shoot out the number blocks, and merge them until you hit that magic number - 2048. But beware - as the numbers start adding up, the adrenaline starts pumping, making it a true challenge for even seasoned puzzle aficionados.
The game's greatest strength lies in its immersive 3D design, a refreshing twist on traditional 2048 games. Whenever two cubes of the same number collide, they merge into one larger cube with double the value. Watch in awe as your cube network expands and evolves, becoming a towering monument to your numerical prowess.
In summary, if you think you've got what it takes to dominate one of this year's best new puzzle games, then lock and load for a unique brain workout with Chain Cube 2048 3D. It's not just about numbers; it's about strategy, focus and precision - qualities that only the finest gamers possess.
If you're ready for your next gaming fixation, grab your smart device now and dive headfirst into Chain Cube 2048 3D, where endless hours of strategic fun await!
What are the best online games?