cerchi vs quadrati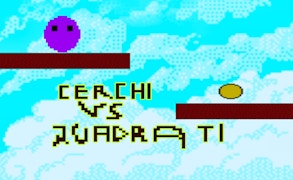 cerchi vs quadrati
Description
In the retro-styled game Cerchi vs Quadrati, players are plunged into a world of geometric shapes. It is a unique platform arcade game that involves directing a ball, representing the circles, to overcome obstacles and smash the squares. Your gaming skills will be put to the test as you navigate the pixelated world, ensuring your circle survives against squares.
How to play
Players control the ball by using keyboard arrow keys. The aim is to progress through the levels by destroying squares while avoiding obstacles that could end your journey prematurely. The game progressively becomes more complex as more obstacles are introduced and the speed of gameplay increases. To succeed in Cerchi vs Quadrati, quick reflexes and sharp concentration are needed.
Tips and Tricks
Don't rush through the levels; take your time to understand patterns and movements. Remember, not every square needs to be destroyed - focus on survival first. Use your circle's mobility to outmanoeuvre squares in tight situations.
Features
Retro-style pixel graphics provide a classic gaming experience.
Gameplay mechanics challenge both reflexes and strategic thinking.
The game is easy to play but hard to master, providing endless hours of entertainment.
The varying level designs add to the overall challenge of the game.
What are the best online games?