Cat Chef vs Fruits - 2 Player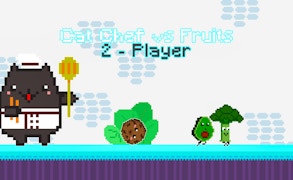 Cat Chef vs Fruits - 2 Player
Cat Chef vs Fruits - 2 Player
Description
In Cat Chef vs Fruits - 2 Player, you will enter a world of culinary adventures as a cat chef. The objective is to slice as many fruits as possible while avoiding obstacles. This game promises an exciting, fast-paced experience, perfect for a quick gaming break or prolonged sessions with your friends.
How to Play
The game controls are pretty straightforward: use the mouse or your finger (for touch devices) to slice the fruits. The key is to avoid any non-fruit objects. Remember, the goal is collecting as many points by slashing fruits while dodging obstacles on the screen. It's a two-player game so invite a friend for some competitive fun!
Tips and Tricks
Avoid slashing at random, your score depends on precision! Try to line up multiple fruits with one swipe for combo points. Always be nimble to avoid obstacles that may come your way. Practice and develop speed and timing skills.
Features
Multiplayer Mode: Compete with your friends in real time.
User-Friendly Controls: Easy controls suitable for all ages.
Addictive Gameplay: High tempo, quick decision making gameplay.
Cheerful Graphics: Brightly colored design that keeps you engaged.
What are the best online games?
Tags