Cartoon Stunt Car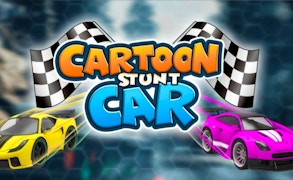 Cartoon Stunt Car
Immerse yourself in the vibrant and dynamic world of Cartoon Stunt Car, a thrilling addition to the online realm of car games. With its whimsical cartoon-style graphics, yet impressively realistic in-game physics, this game masterfully bridges the gap between fantasy and reality. Engage in high-adrenaline chases, sharp hairpin turns, and gravity-defying jumps that will make your heart race faster than your virtual supercar.
You'll start your journey with a single majestic vehicle but fear not, eight more super-sport cars are waiting to be unlocked as you progress. Show off your unrivaled driving skills and leave a trail of dust behind you as you outmaneuver your opponents with the responsive "ARROW KEYS" for Player 1 or "W, A, S, D" controls for Player 2.
In this competition against time and mechanics, don't forget to utilize the Nitro with "N" or "T" to boost yourself beyond speed limits and Look Back with "B" or "C" to savor the panic-stricken faces of your competitors. No matter how chaotic the situation gets, remember that there's always an option to Level Restart with "R", giving you another shot at achieving perfection.
Cartoon Stunt Car, is not just one of those 2 player games, it's an exhilarating racing experience that tests your taming abilities on the mightiest of cars. It's a visually striking game that brings out all plights and pleasures of competitive racing right onto your screen.
In conclusion, the ride of your life is waiting for you in Cartoon Stunt Car. Will you step up to claim victory or will you be left behind in this unmatched race?
What are the best online games?