CarFight.io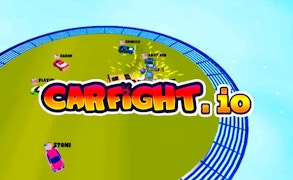 CarFight.io
Looking for a thrilling blend of car games, driving games, and battle games? Buckle up and immerse yourself in the high-octane world of CarFight.io! This dangerously addictive game skillfully merges the best elements of driving and combat, bringing you an unparalleled gaming experience.
CarFight.io is not your average bumper car affair. Here on the rooftop arena, your survival depends on your ability to dish out unyielding damage while dodging oncoming attacks. The size of your battle machine grows with each car you demolish, making intelligent gameplay a must. But don't let the size fool you - larger cars may have more power, but they're also an easier target for opponents aiming to knock you off into oblivion.
The game's high-intensity action is complemented by its engaging mechanics. Your mission is simple: annihilate your adversaries to be the last car standing. Unlike most car games, CarFight.io rewards aggression over evasion; delivering more bumps earns you more points and increases your chances of survival. But heed my advice – stay sharp because it only takes one well-placed hit from enemy combatants to send you spiralling down from the rooftop.
In conclusion, if you've been tirelessly searching for immersive driving games or adrenaline-pumping battle games, then CarFight.io is just what you need. With its potent blend of strategic gameplay, fast-paced action, and engrossing vehicular combat, it's no wonder this game is quickly gaining traction in the gaming community.
Ready to start the fight on the roof? Play CarFight.io today and earn your place as the ultimate car demolition fighter!
What are the best online games?