Car Parking City Duel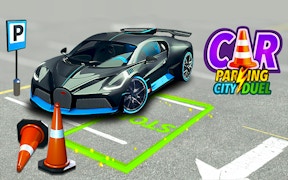 Car Parking City Duel
Car Parking City Duel is a nexus of car games, driving games, parking games, and outstanding excitement that catapults you into a world of automotive adventure. As a multi-faceted game boasting an array of game modes, it ensures a potent dose of rapture for all gamers.
Experience the heart-racing thrill of high-speed car races, the unpredictable exhilaration in car exploding challenges, the intricate precision in car parking challenges, and adrenaline-pumping overtake challenge modes. The beauty of this game is its versatility as it allows you to engage in these electrifying game modes either as a lone wolf or alongside your buddy in two-player gaming mode.
Dive headlong into the extensive game map where freedom is king. Here, you can maneuver your car however you wish in an enthralling free driving mode. But remember, time is of essence – every mode is a race against the clock. With an assortment of super-fast cars at your disposal, each ride promises to be an invigorating escapade.
This isn't just another run-of-the-mill car simulator adventure; it's an audacious odyssey fraught with missions, races, crashes, drifts and many more surprises that keep you firmly on tenterhooks. Ready to ride the rollercoaster? Buckle up for Car Parking City Duel; where the city streets are your playground and the thrill never ends!
What are the best online games?