Car Eats Car: Winter Adventure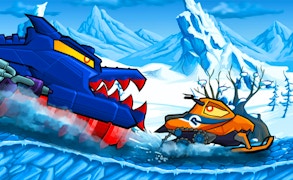 Car Eats Car: Winter Adventure
Welcome to the frosty thrills of Car Eats Car: Winter Adventure, an adrenaline-pumping addition to the world of car games and driving games that has your pulse racing from start to finish.
Get ready for a dynamic race on a chilling highway where your rivals are just as eager to taste victory. Car Eats Car: Winter Adventure effortlessly merges the excitement of driving games with the cut-throat rivalry found in car games. Overthrow your enemies, outpace them on slippery winter roads, and experience the thrill of victory in this riveting adventure.
In this game, you're not just a racer - you're a creator. The car incubator offers players a chance to design their own cars, adding a personal touch that is often missing from other car games. Empower your inner car tycoon as you upgrade vehicles and add menacing monster cars to your arsenal.
The game's storyline throws another variable into mix: jailbreak. Your friends have been imprisoned, injecting an emotional component into this engrossing gaming experience. Your driving skills and turbo speed won't just be needed for winning races, but for executing daring rescue missions.
However, it's never smooth sailing - or should we say, smooth driving? The authorities are hot on your trail in this police chase game! Evading the cops while taking down rivals requires a delicate balance between speed and strategy.
The ultimate challenge however lies in the boss fights - survive these, and you're the undisputed champion of Car Eats Car: Winter Adventure. So buckle up gamers, with turbocharged races and heart pounding chases, this is one winter adventure that will keep you warmed up!
What are the best online games?
TAGS