Candy Star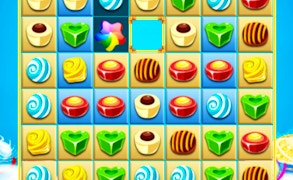 Candy Star
Get ready to flex your mental muscles with Candy Star, a sweet new addition to the realm of brain games and match 3 games. Bursting with color, this game is as enticing as it is challenging, promising to keep you on your toes from start to finish.
Candy Star is a delightful concoction of mind-bending puzzles and mesmerizing visuals, where your grey cells are the only weapons you need. Your task: eliminate at least three identical candies in one swift move. Sounds simple? Wait until you delve deeper into its candy-coated complexity.
The hundreds of levels in Candy Star are cleverly designed to crank up the difficulty notch-by-notch. Each level presents a unique puzzle that demands an unorthodox approach. This addictive aspect makes it one of the best match 3 games available for those looking for a real challenge.
Moreover, it is not just about clearing candies; it's about doing it as swiftly as possible. This addition of speed brings an exhilarating rush that separates Candy Star from other typical brain games available on the market. You'll find yourself strategizing every move, pushing for that perfect combination to clear candies quicker than ever before.
In conclusion, Candy Star successfully marries addictive gameplay with an engaging concept, further amplified by its colorful design elements. It stands out in the match 3 games genre and offers real cerebral challenges behind its playful facade, making it an excellent choice for puzzle aficionados who love putting their brains and reflexes to test.
So when you're ready to indulge in some mind-sharpening fun while also satisfying your sweet tooth, remember - there's always room for dessert in Candy Star.
What are the best online games?
TAGS