Candy cup Boom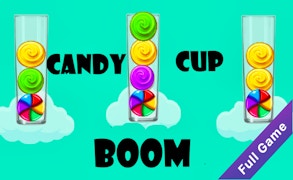 Candy cup Boom
Description
In Candy Cup Boom, you are thrown into a candy-filled chaos created by Mr. Licorice's innocent blunder. He's mixed up all the sweets and he desperately needs your assistance! Enter a world filled with delightful confectionery and utilize your problem-solving skills to sort out the candy mess within a specified time and limited moves.
How to play
You'll have to think on your toes and use your mouse to arrange similar candies together. The challenge intensifies as you're given only a restricted number of moves within the ticking time. Remember, every successful match aids Mr. Licorice in tidying up his candy mess!
Tips and Tricks
Planning your moves in advance can save you precious time. Look out for opportunities to create combos by aligning more than three similar candies; these grant extra points and add bonus moves. Use your moves wisely, each one matters!
Features
Addictive gameplay: Mastering the game requires strategic thinking and swift decisions, making it irresistibly addictive!
Kid-friendly Interface: With its bright, colorful graphics and easy controls, it's perfect for children.
Limited Moves: Adds an extra layer of challenge and excitement.
Diverse candies: Features an assortment of delightful candies to keep the game visually engaging.
What are the best online games?