Butterfly Kyodai HD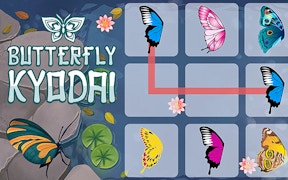 Butterfly Kyodai HD
Immerse yourself into the world of Butterfly Kyodai HD, a delightful board game that combines elements of animal games and mahjong games in perfect harmony. This captivating puzzle game will enthral you with its vivid graphics, enchanting music, and a beautifully crafted environment filled with fluttering butterflies.
In Butterfly Kyodai HD, your main objective is to help disoriented butterflies find their other halves. As you link together identical wings, a transcendent transformation takes place: the two halves merge, and a whole butterfly elegantly flutters away to freedom. This simple yet compelling gameplay keeps you hooked to the screen for hours, making it an ideal pastime for both young and mature players.
The game's HD graphics bring every butterfly to life in vibrant colours and meticulous details. Each wing showcases a unique pattern, demanding you to match it with its pair amongst an array of others—bringing forth an engaging blend of observation, strategy, and quick thinking. Furthermore, the serene background images complement the theme, adding an extra layer of aesthetics to the overall experience.
As one of the finest animal games, Butterfly Kyodai HD successfully instils an appreciation for nature's simple beauty. As one of the seasoned mahjong games, it challenges your mental agility while providing endless entertainment. The perfect balance between relaxation and stimulation makes this game highly enjoyable at any time of day or mood.
To sum up, Butterfly Kyodai HD is not just another mahjong game; it's a beautiful retreat into nature coupled with a brain-teasing challenge that will keep you captivated for hours on end. Whether you're a fan of animal games or love puzzling over mahjong tiles, this game captures the best of both worlds!
What are the best online games?