Burnin' Rubber Crash n' Burn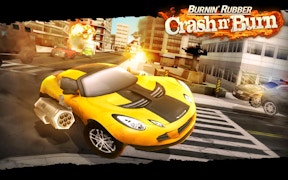 Burnin' Rubber Crash n' Burn
Today, we are going across the blend of speed, excitement, and destruction in the phenomenal world of Burnin' Rubber Crash n' Burn, a masterpiece in the realm of car games, that will indeed set your adrenaline racing.
As a tribute to Burnin' Rubber 4, this juicy piece of endeavor is an arena where driving games meet battle games with an explosive impact. The thrills are not for the faint-hearted because nothing you've played before will quite prepare you for this exhilarating ride that brings together elements like cash collection missions, over 25 of them in fact, where precision meets strategy. But it's not all about the money here, it's about unlocking new facets of fun such as new cars, sassy style gadgets and crucial upgrades that make your experience richer with each mission.
One highlight that deserves mention is the after-touch mode that sends everything into slow motion after a colossal destruction - it's like watching a high-budget action movie sequence but with you in control. The game dynamically encourages you to destroy as much as you can, making it one of the leading car battle games on the market today.
Burnin' Rubber Crash n' Burn isn't just another title amongst Unity developed games. It revolutionizes how we perceive racing and push us beyond our gaming comfort zones. This spectacular symphony of engine roars and metal clashing is an absolute treat for those who crave for more than just mere car driving games.
The true victory here lies in immersing you so much into its world that every spin-off, every power-up feels like a significant triumph! In conclusion, if you're looking for more than just an average speed chase and want to experience dynamic gameplay interlaced with controlled chaos - then Burnin' Rubber Crash n' Burn is definitely worth buckling up for.
What are the best online games?