Burnin Rubber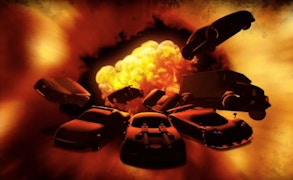 Burnin Rubber
When it comes to exhilarating car games, the scintillating world of 'Burnin Rubber' is a standout. It delivers a fusion of adrenaline-pumping speed and mind-boggling strategy that sets your heart ablaze. This is not your ordinary racing game; it's a thrilling battle royale on wheels, offering an experience that transcends what you would expect from typical driving games.
The game opens with two critical choices: pick your vehicle and select your weapon. This dual-selection mechanism adds an extra layer of excitement right off the bat. Whether it's sleek sports cars or hulking SUVs, 'Burnin Rubber' offers an impressive roster of vehicles, all ready to be armed to the teeth and unleashed onto the chaotic asphalt battlefield.
But the sheer joy of 'Burnin Rubber' lies in its unique control mechanism—tapping left or right to steer. This simplicity belies a wealth of complexity, as maneuvering through traffic while laying waste to opponents requires razor-sharp reaction times and strategic foresight.
The roar of engines, the screech of tires and, most importantly, the intoxicating smell of burning rubber, fills every race with an electrifying energy. The game brilliantly captures the thrill of high-speed chases in a lawless cityscape, where only the fastest and most ruthless survive.
To conclude, 'Burnin Rubber' goes beyond being just another title in the realm of car games—it stands as a testament to how driving games can be redefined when armed with innovative gameplay mechanics and immersive storytelling. So strap in, hold on tight and get ready to rule the streets with 'Burnin Rubber'. A must-try for those who live life in the fast lane.
What are the best online games?
TAGS