Bumpy Ball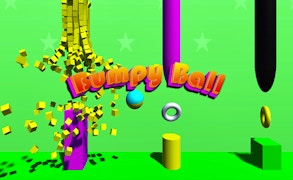 Bumpy Ball
Description
Welcome to Bumpy Ball, an exciting arcade game that tests your reflexes and precision. In this game, guide a bouncing ball through a dynamic landscape filled with differently colored objects. You must direct the ball to smash into objects of the same color while carefully avoiding objects in any other color. With its fast-paced gameplay and challenging mechanics, Bumpy Ball will keep you entertained for hours!
How to Play
To control the ball, simply click or tap on the screen to steer it toward the same-colored objects. The speed of the ball increases as you progress further into the game making it more challenging and exciting. Remember, hitting an object of a different color will result in game over! Your objective is to survive as long as possible and attain the highest score.
Tips and Tricks
Always keep an eye on upcoming obstacles, it helps in planning your moves ahead of time. Don't rush in direction changes, make smart, calculated movements. Also, practice makes perfect in Bumpy Ball; expect to improve significantly with each playthrough.
Features
Intuitive Controls: Simple click- or tap-based controls suitable for all ages.
Addictive Gameplay: Fast-paced action that's easy to pick up but hard to master.
Dynamic Difficulty: The speed at which your ball moves increases steadily as you progress through the game.
Catchy Soundtracks: Engaging background music that adds to the drama of this high-speed chase!
What are the best online games?