Build With Buddies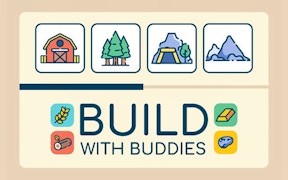 Build With Buddies
If you are an aficionado of puzzle and building games, then 'Build With Buddies' will be a delightful addition to your gaming repertoire. This enchantingly fun game ingeniously combines the thrill of building with the excitement of strategy, perfect for those who thrive in 2 player games.
Build With Buddies is a magical mix of strategy and resource management where players trade their dice rolls for resources. These resources are instrumental in constructing farms, forests, mines, and quarries. The building aspect isn't simply addictive but also an important factor in winning the game– your buildings generate more resources each turn. Thus, enhancing your chances of securing victory!
The different rounds bring about unique objectives for players to strategise upon, thereby ensuring every round is different! Its unpredictability makes it one of the most riveting fun games out there.
The exhilaration isn't just about building your own infrastructure but also outwitting your opponents. The competitiveness embedded within this intensely fun game makes it a stellar choice for fans of 2 player games. It encourages you to utilise your resources wisely and plan ahead to dominate the board.
In conclusion, Build With Buddies effortlessly integrates the appeal of puzzle games with the strategic depth demanded by building games. It's delightfully challenging, encouraging you not only to strategise but engineer a world from scratch. An invaluable gem amongst fun games, Build With Buddies offers countless hours of engaging gameplay and friendly competition.
If you have a penchant for problem-solving with a dash of architectural finesse, then this game is an unmissable addition to your collection. Let the dice roll and let your building journey begin in Build With Buddies!
What are the best online games?