Bubble Fight.io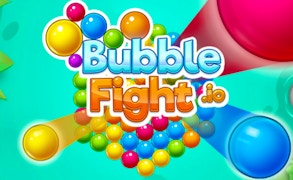 Bubble Fight.io
Welcome to the exhilarating world of Bubble Fight.io, an impeccable blend of the most exciting game genres that we all cherish - ball games, animal games, and 2 player games. This riveting online multiplayer Bubble Shooter game amalgamates the thrill of competition with the satisfaction of strategic gameplay, potentially crowning you as the next Bubble Fight IO champion!
Navigating through this immersive virtual world, you find yourself in a high-stakes bubble shootout against formidable opponents. The arena is gripping with bubbles stacked at its center, and it's your turn to make a move. Your mission? Shoot them down and inflict maximum damage onto your foes. The more bubbles you decimate, the closer you get to triumph.
The beauty of Bubble Fight.io lies in its captivating concept that excellently merges elements from popular gaming tags - it's not just a standard animal game, but one where each turn adds a layer of strategy akin to intense 2 player games. The interactive sphere is reminiscent of your favorite ball games, but with a delightful twist: instead of dribbling or passing, here you are shooting down bubbles!
The competitive spirit embedded in this delightful member of the .io games family submerges players into an arena full of scintillating action. The fun never ends as this game offers an accessible platform for all players to relish, anytime and anywhere! Be it fierce competition or friendly banter, Bubble Fight.io has all necessary ingredients for an unforgettable gaming experience.
To sum up, Bubble Fight IO isn't just another addition to the world of bubble shooter games; indeed, it's an innovation by itself, combining thrill, strategy and excitement in heaps. Put on your game face and step into this arcade-style digital arena. Conquer the bubble-filled battlefield and claim your place as our champion!
What are the best online games?