Buba Jump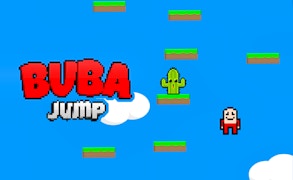 Buba Jump
Description
In Buba Jump, you're not just jumping for fun, but for survival! This hyper-casual, arcade-style game will put your timing skills to the test. Enter a world where your character, Buba, must constantly jump to avoid falling into the deep abyss below. Navigate through the ever-changing environment as your reflexes and agility are continuously challenged.
How to play
The controls of the game are simple - just a single tap is needed to make Buba jump. Timing is crucial - time your jumps carefully as you move from one platform to another. The game progresses in difficulty, with platforms becoming smaller and fewer as you vault higher. Remember, your survival depends on not falling!
Tips and Tricks
Always be observant. The platforms will get trickier and less predictable as you advance further in the game. Rally your focus and patience, and remember that perfect timing ensures higher points. Don't rush, as every misstep could be fatal!
Features
The captivating features of Buba Jump include:
Simple Controls: Just tap to jump! Easy for anyone to pick up and play.
Addictive Gameplay: With its increasing difficulty level, it's hard to put down.
Friendly Graphics: The game's bright colors and appealing design make it visually pleasing.
High Replayability Factor: Because every round is different, it calls for endless hours of fun.
What are the best online games?