BTS Ball Bouncy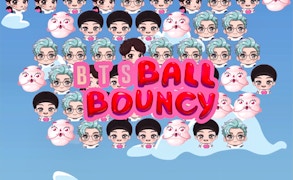 BTS Ball Bouncy
Description
In BTS Ball Bouncy, you're transported into a colorful and fun anime universe. Engage in an exciting take on classic arcade-style bubble shooting, with an added twist. The objective is to shoot colored balls to form clusters of the same color and make them disappear. But be careful, as the speed and complexity increase with each level, demanding not just precision but strategic thinking.
How to Play
Use your mouse or touch screen to aim and release the balls. Your goal is to match three or more balls of the same color to make them disappear from the screen. The game progresses in difficulty, so you need to carefully strategize your gameplay. Getting rid of larger groups of balls earns you bonus points.
Tips and Tricks
Being fast is not always beneficial. Sometimes, taking a moment to plan your shot can lead to a higher score. Try aiming for bigger clusters of same-colored balls for maximum points. Don't forget, some special balls grant power-ups when hit.
Features
Energetic anime-themed graphics.
Addictive arcade-style gameplay.
Intriguing progression system that increases difficulty over time.
Cleverly designed power-ups hidden within gameplay.
What are the best online games?