British Cars Jigsaw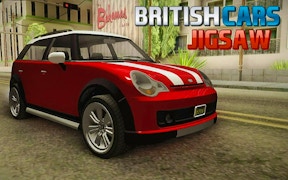 British Cars Jigsaw
Unveiling a world of automotive charm combined with mind-stirring challenges, British Cars Jigsaw is a fascinating tapestry of excitement and education. This free online game, cleverly blending the genres of puzzle games and jigsaw games, is an excellent choice for those seeking Brain Games or Games for Kids.
Journey into the vibrant universe of British Cars Jigsaw and be captivated by the selection of 12 engaging images, each uniquely challenging. These stunning depictions showcase the fine craftsmanship inherent in British cars, intricately designed to stimulate your brain and enhance cognitive abilities. This game isn't just one of the many Car Games; it's a brain-teasing celebration of automotive artistry.
The allure of this game lies in its versatility - it's a one-size-fits-all puzzler! With three exciting modes to choose from: easy with 25 pieces, medium with 49 pieces, and hard with 100 pieces, it becomes an inclusive platform catering to varying skill levels. From novices who are embarking on their first puzzle encounter to seasoned puzzlers looking for a formidable challenge, this game adapts to everyone's needs.
Above all else, British Cars Jigsaw is entertaining. It's an exceptional blend of creativity and challenge that can keep players engaged for hours. So if you're hunting for entertaining Jigsaw Puzzles, look no further than British Cars Jigsaw - a vibrant melting pot of fun, learning, and excitement!
In summary, British Cars Jigsaw doesn't just join the ranks of commonplace Games for Kids; it stands tall as an exhilarating gaming experience that tests your mental agility while providing endless entertainment. So ignite your competitive spirit, flex those gray cells and join in the puzzle-tastic fun that British Cars Jigsaw has to offer!
What are the best online games?