Bring To Rome !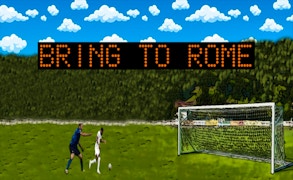 Bring To Rome !
Description
In the captivating game Bring To Rome!, you are in charge of a soccer team racing against all odds to take the world cup home. Control your footballers on the pitch, strategize every move ensuring they block opponents and edge closer to victory. The game is filled with thrilling sequences that keep you on your toes as you vie for dominance and stardom, bringing that coveted trophy back to Rome.
How to play
The game controls are simple yet require strategic thinking. You just need to click or tap on your soccer players making them run or pass the ball. The main goal is to prevent the opposing team from scoring and aim for a goal yourself. Progress in the game is determined by how many opponents you outrun and successful goals scored.
Tips and Tricks
To vividly outshine your opponent, always try making quick, unpredictable moves to confuse them. Utilize the whole pitch, passing around ensures you manage the flow of the game efficiently. Watch closely for any team gaps and exploit them by creating scoring opportunities.
Features
Intense gameplay: fast-paced soccer action demanding tactical planning.
User-friendly controls: easy-to-use, ensuring an entertaining gaming experience.
Epic challenges: overcoming increasingly difficult adversary teams after each victory.
Captivating graphics: immerses players into a realistic soccer-world demeanor.
What are the best online games?