Bricks 'n' Balls Pinball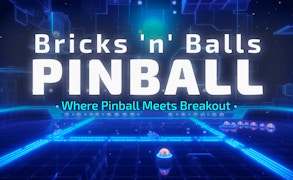 Bricks 'n' Balls Pinball
Bring your pinball wizard skills to the digital arena with Bricks 'n' Balls Pinball, an intriguing blend of arcade nostalgia with a modern twist. This game, a masterful fusion of classic pinball and the irresistible mechanics of Breakout, seamlessly combines elements from the two renowned arcade genres, resulting in an electrifying gaming experience that is as absorbing as it's innovative.
The game's main charm lies in its intuitive yet deep gameplay mechanics. The premise is simple: control a pinball paddler, taming the chaotic energy of a rogue pinball as it ricochets off vibrant brick formations. Each impact shatters the bricks, clearing your path and racking up points. However, don't let this simplicity fool you. Each level presents unique brick layouts that test your trajectory gauging skills to their limit and push you to think strategically about your every move.
If you're a fan of ball games, you'll find yourself lost in the rhythm of the bouncing pinball; if you're into skill games, you'll appreciate the finely-tuned mechanics that demand precision and agility; and for lovers of block games, the satisfaction of demolishing vibrantly colored brick formations is undeniably addictive.
In conclusion, "Bricks 'n' Balls Pinball" is a delightful throwback that successfully combines retro aesthetics with innovative gameplay mechanics to deliver hours of entertainment. Whether you are a casual gamer looking for something fun to pass time or an avid arcade fan seeking for a new challenge, this game won't disappoint. It embodies everything we love about arcade gaming and takes it to another level.
What are the best online games?