Brick Breaker Retro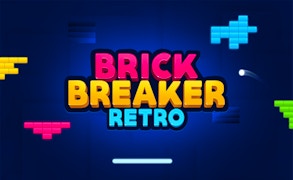 Brick Breaker Retro
Description
Welcome to Brick Breaker Retro, a game that merges the charm of the classic arcade with a modern twist. The objective is straightforward: smash as many bricks as you can, and strive for the highest score! With every fourth level you conquer, new ones unlock, amplifying the fun and challenge. Whether you're competing against your own high score or starting afresh, Brick Breaker Retro offers endless hours of excitement!
How to play
Control the paddle using your keyboard arrows or mouse, and bounce the ball up to hit and break blocks. As you advance, the blocks get tougher to destroy. Clear each level by breaking every block on the screen. Beat four levels in a row to unlock new levels, or restart from scratch to chase a higher score.
Tips and Tricks
Mastery of angles is crucial for winning Brick Breaker Retro. Use your paddle wisely to control ball's direction. Catch power-ups that fall from broken bricks to give yourself an advantage. Beware though - not all power-ups are beneficial! Stay alert for high-speed bricks or sudden paddle shrinkages.
Features
Retro-style graphics: Gives a nostalgic feel reminiscent of classic arcade games.
Progressive difficulty: The game progressively increases in difficulty keeping you engaged for longer.
Power-ups: Collect power-ups dropped from broken bricks for added fun and challenge.
Mechanic of unlocked levels: Every four beaten levels unlock new ones, adding an interesting twist to progression.
What are the best online games?