Brain Games 2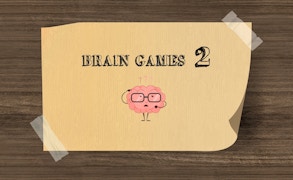 Brain Games 2
Description
Welcome to the world of Brain Games 2, an electrifying game packed with intriguing challenges, puzzling riddles and mind-boggling conundrums. This is not just a game, it's a virtual battleground to test your logical reasoning, accuracy, memory skills and ignite your creativity. Every level brings a new challenge that will have your brain cells firing in all directions. So, let the fun begin!
How To Play
Playing Brain Games 2 is pretty straightforward. With each level you are presented with a matter of skill or logic that you must solve correctly to progress. Your solutions should be inputted through keyboard actions or mouse clicks depending on the puzzle. Remember: every choice can impact the outcome and influence your progress.
Tips and Tricks
For successful gameplay in Brain Games 2, always approach each challenge with an open mind. Think outside of the box and come up with creative solutions rather than falling for obvious traps. Above all, be patient and persistent. Don't be disheartened if you don't get it right on the first try, remember: practice makes perfect.
Features
A stimulating series of diverse challenges and puzzles to keep you on your toes.
A well-designed user interface for seamless navigation through different levels.
A wide array of riddles focusing on logical thinking, creativity, memory skills and attention to detail.
A progressive difficulty curve that tests you at every step while keeping the fun alive.
What are the best online games?
Tags