Boxer.io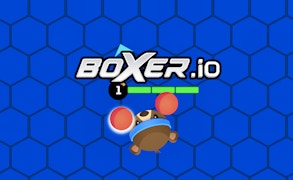 Boxer.io
Our keyboards never cease to witness epic battles, but few are as uniquely intriguing as Boxer.io. This game is a rare gem in the universe of boxing games, seamlessly interweaving elements of animal games and high-octane battle games.
In Boxer.io, the battlefield is a wild cocktail of chaos and strategy. The player embodies an animalistic boxer, a novel twist that adds an extra dash of thrill to the well-known boxing gaming scene. Every punch carries weight, every dodge feels crucial. You're not merely a boxer; you're a gladiator in an animalistic guise.
The essence of this game lies in its savage yet hilarious gang beasts fight. You're not merely fighting for survival; you're vying to absorb your opponent's power, transforming yourself into a veritable Goliath among the battlefield's Davids. It's a potent mix of Darwinian principles applied to the digital domain.
You win by becoming bigger and stronger and by outmaneuvering your opponents across the game's uniquely crafted PvE io arena. The satisfaction derived from becoming the last stickman fighter standing is truly unparalleled in this battle royale extravaganza.
In conclusion, Boxer.io packs a punch with its clever combination of boxing and animal elements along with heart-stopping battle scenarios. It's more than just a game; it's a beastly brouhaha that keeps you on your toes, always yearning for just one more round. If you've got an appetite for competitive chaos, it's time to grab your virtual boxing gloves and step into the thrilling arena of Boxer.io!
What are the best online games?