Bouncing Ball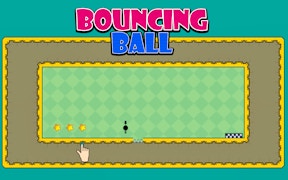 Bouncing Ball
Even with all the variety of entertainment and distractions that we have available to us, there's still a lot of value in the classics like playing with a ball in Bouncing Ball. It's still fun to get a bouncy rubber ball and just bounce it on the floor or against the wall. Still, there's always the risk that the ball will bounce wildly and head out into the world or maybe break something in your house. That being said, there are skills to maintain a consistent bounce streak as the angle and force change with every single bounce so you've got to watch it closely.
About Bouncing Ball
The beauty of bouncing a ball is in its simplicity. There's not a lot to confuse you or catch you off guard, it's just you and the ball. That being said, the more you bounce it, the more chance you have of losing control. That's what this game is all about you're following a ball as it bounces. As it does, you quickly learn that it's not always consistent and you need to intervene. Nobody likes to see a ball stop bouncing and it doesn't have to as long as you're precise and react quickly with your bounces. It's all about seeing how far you and the ball can go.
How to Play
Bouncing Ball is a 2D platforming game that you can play with the mouse. Since the game auto-scrolls to the right and the ball bounces on its own, you just need the left mouse button. Whenever you click it, the ball does a fast bounce. The goal is to get the ball to bounce as far and as long as it possibly can while collecting gems along the way.

The ball starts by bouncing across evenly distributed platforms. It's always moving slightly forward so if left alone, the ball will eventually over or undershoot a platform and fall. Whenever this happens, you have to restart the run. The ball will always bounce at the same height and will never bounce further than its average bounce distance.
Tips and Tricks
There's not a lot of information to go on but there is a pattern to spot. This isn't like Flappy Bird, you just need to watch the platform timing carefully to keep the bounce going. Just be careful not to get distracted by the gems if they'll break your rhythm.
Game Details
Developer: Free Puzzle Games
Platforms: Web Browser (PC and mobile)
Languages: English

FAQs
Are there other kinds of Bouncing Ball games?
This title is not part of a series but there are plenty of games that make use of a bouncing ball. Some of them are 3D while others have the ball bouncing through mazes, platforming levels, or long tracks.

Games similar to Bouncing Ball
This game is pretty direct with its content and gameplay which is why it fits into the Arcade and Hyper Casual Games on GamePix. Other such games include Flip Bottle, Ball Rush, Rope Hope, and Wheel Duel.
What are the best online games?