Boat Rush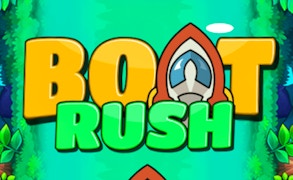 Boat Rush
Description
Embrace your adventurous side in Boat Rush, a thrilling and fast-paced arcade game. Set sail across treacherous waters, maneuvering your boat past dangerous obstacles that can lead to an explosive end. Your primary objective is to reach the finish line unscathed. As you navigate, collect gold coins to upgrade and beautify your boat.
How to Play
The gameplay of Boat Rush is simple yet challenging. Use your keyboard arrow keys or touchscreen for mobile users to steer clear of obstacles. Your progress is determined by how far you sail without sinking, along with the amount of gold you manage to collect. Earning more gold enables you to upgrade your boat, increasing its speed and durability.
Tips and Tricks
To excel in Boat Rush, timing is key. Strategize your movements to avoid incoming obstacles while simultaneously collecting gold coins. Keep an eye on potential bonus items that might appear on your journey - they hold the key to surviving longer and reaching higher scores.
Features
Fast-paced and challenging gameplay keeps you on edge.
Captivating graphics create an immersive gaming experience.
A plethora of boats to collect and upgrade using gold coins.
Dangerous obstacles that will keep even experienced gamers challenged.
In-game bonus items add an extra layer of strategy.
What are the best online games?
Tags