Boat Drive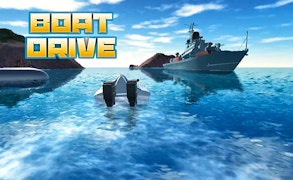 Boat Drive
Immerse yourself in the exhilarating world of Boat Drive, an absorbing addition to the realm of driving games. This thrilling title catapults you into a hyper-realistic 3D world where you command the helm of three distinct boats, including an intrepid submarine. If you've ever yearned for the thrill of extreme water drifting or the challenge of navigating a vessel through diverse environments, Boat Drive stands as a profound testament to unparalleled simulator games.
From the moment you dive into Boat Drive, you'll immediately notice how it departs from traditional racing and driving games. No congested highways or roaring engines here; instead, it's the open sea and the relentless rhythm of lapping waves that serve as your racing track. The mechanics are lifted straight from the pages of titanic maritime undertakings, thereby echoing themes from other titanic games, while delivering a unique form of excitement all its own.
The exhilarating feeling grows as you masterfully weave through obstacles or perform breathtaking drifts. The ability to switch among three different boats further enhances your gaming experience by offering an immersive variety that keeps gameplay refreshing and challenging.
An uncommon level of attention to detail allows for an environment-switch feature that adds an additional layer of strategic depth to this maritime simulator. Whether you're navigating through calm waters or braving the tumultuous waves in stormy weather, each environment presents unique challenges that require savvy piloting and sharp decision-making skills.
If you have a love for racing adrenaline, a fascination with nautical exploration or just enjoy quality simulator games, Boat Drive is guaranteed to float your boat. Prepare yourself for an unrivaled maritime adventure as you take helm and sail into uncharted gaming territory!
What are the best online games?