Bloom Me!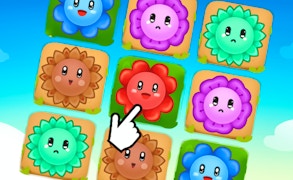 Bloom Me!
Description
Test your mental agility with Bloom Me!, a stimulating puzzle game that challenges you to spell out the word 'BINGO' by selecting correct answers from an array of options. With each level, tasks become increasingly challenging, pushing you to think faster and smarter. The game's objective is simple: reach the end level with the highest score and most lives intact.
How to Play
The gameplay of Bloom Me! is straightforward. Provided with multiple choices, your task is to find the correct answers which will enable you to form the word 'BINGO'. Select an answer by clicking on it. Completing a row grants progress towards the next level. Remember, each correct selection boosts your score and extends your life in the game.
Tips and Tricks
Think fast but play smart! In Bloom Me!, speed is vital but accuracy is paramount. Picking wrong answers will deplete your lives quickly. Hence, careful consideration before making a choice can be the key to sustaining longer gameplay and achieving higher scores.
Features
Engaging puzzle gameplay that stimulates quick thinking.
Progressively challenging levels heighten game excitement.
Gorgeous visuals offering an enjoyable gaming experience.
Pleasant sound effects enhance overall game atmosphere.
A relaxing yet captivating gaming experience for all age groups.
What are the best online games?