Blocky Highway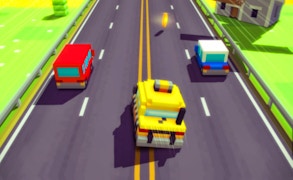 Blocky Highway
If you're an adrenaline junkie with a need for speed, Blocky Highway is the perfect game for you. Positioned right at the forefront of innovative car games, Blocky Highway takes driving games to a new level, offering an electrifying fusion of thrill and skill.
As expected in top-tier car games, Blocky Highway doesn't hold back when it comes to variety. Its expansive garage brims with a diverse array of vehicles waiting to be unlocked. From sleek sports cars to colossal trucks, there's truly something for everyone. The drive through different maps keeps the gameplay dynamic and exciting, consistently pushing your boundaries as you strive to dominate each race.
The developers did an exceptional job in rendering these driving games into an engaging experience. The controls are intuitive, making it easy for anyone to pick up and play. Achieving high speeds feels satisfying without being unmanageable, striking a healthy balance that keeps you on the edge of your seat.
In terms of skill games, Blocky Highway is right up there with the best. It requires precision, tactical decision-making and quick reflexes in equal measure. The distinction here lies in its adaptive difficulty curve, which helps cater for both novice players seeking casual fun and seasoned racers looking for a challenging experience.
All in all, Blocky Highway is a daring addition to the realm of car games and driving games that packs plenty of heat. It's fast-paced, compelling and does an excellent job at testing your mettle as a skillful racer. Whether it's mastering the controls of different vehicles or blazing through stunning landscapes at breakneck speed - this game promises high-octane excitement from start to finish.
What are the best online games?