Blacko Ball 2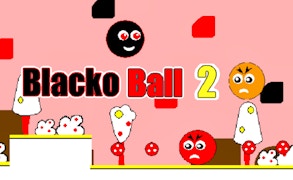 Blacko Ball 2
Description
In Blacko Ball 2, navigate your way through a perilous 2D platform that's filled with dangerous obstacles. Your mission is to gather the tiny red balls scattered across each level while expertly dodging harmful Red and Orange enemies, spikes, and ground saws. The game takes you through 8 thrilling levels, each escalating in challenge. This sequel to the original "Blacko Ball" series promises more excitement and fun.
How to play
To control the ball, use the WASD keys or the Arrow keys. Perform a double jump by pressing the W key or Up Arrow key twice quickly. Reach the exit door safely to proceed to the next level while collecting as many red balls as possible.
Tips and Tricks
Familiarize yourself with enemy patterns and level layouts for smoother navigation. Use your double jump ability wisely, it could be a lifesaver when faced with difficult jumps or surprising enemies. Coin collection boosts your score, so try to grab as many as you can.
Features
Captivating 2D platform design: Skillfully designed interface that keeps your interest intact.
Intriguing levels: A set of 8 challenging levels that require strategy and skill to conquer.
Vivid enemies: Encounter multiple animated adversaries that boosts the game's thrill factor.
Diverse Controls: Compatible with both WASD and Arrow keys for player movement.
Dual Jump Feature: Double jumps add an extra layer of excitement to the gameplay.
What are the best online games?