BlackJack Super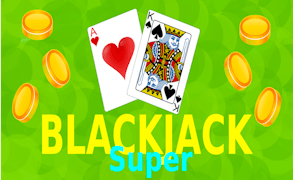 BlackJack Super
Description
Immerse yourself in the gambling world with Blackjack Super, a quintessential card game that channels the thrilling atmosphere of a real casino. Tangle with skill, luck, and strategy as you strive to reach that perfect number, 21. This game doesn't require any registration or real money, providing an avenue for you to hone your blackjack skills and strategies risk-free. You'll find yourself competing against a virtual dealer, aiming to garner cards that tally higher but don't cross the 21 mark.
How to play
The essence of Blackjack Super lies in accumulating cards that add up to a sum greater than the dealer's hand, but not exceeding 21. Controls are straightforward; simply click on the screen to draw or hold cards. The game progresses as you continue winning against the dealer, improving your gambling skills and strategy over time. Remember, there's no pressure since you're not playing with real money.
Tips and Tricks
Blackjack is all about calculated risks. Aim for 17 points or higher, as staying on anything lower usually doesn't bode well. But remember, crossing 21 will bust your hand instantly. Properly balancing risk versus reward is key in this game.
Features
No registration required: Dive into the action right away.
No real money involved: Enjoy thrill of Blackjack without financial risks.
Fully offline: Play anywhere without needing internet access..
Improve your skills: Perfect for beginners learning and pros practicing strategy.
What are the best online games?