Bike Racing 3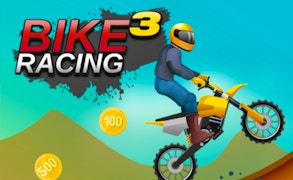 Bike Racing 3
Immerse yourself in the exhilarating thrill of the open road with Bike Racing 3, one of the most adrenaline-fueled motorcycle games in today's digital world. The game's popularity is testament to its winning formula of heart-pounding excitement and addictive gameplay.
The third installment of this hill-climb racing phenomenon redefines the standards for driving games. Forget about racing against the clock, Bike Racing 3 challenges you to push your limits, daring you to see just how far you can make it on challenging infinite tracks without taking a dangerous tumble. Offering a riveting blend of control, strategy, and raw guts, this game presents an irresistible challenge for any gaming aficionado.
The appeal of Bike Racing 3 lies not only in its intense races but also in the diversity it offers. Choose your preferred two-wheeled beast from a range that includes cruisy scooters, sand-dune jumping cross-bikes or hefty classic bikes designed to tackle arctic conditions. The tracks are ingeniously designed, filled with endless hills and obstacles to test your riding skills to the max.
But this game isn't just about raw speed: strategy also comes into play with a captivating incentive system. Master audacious stunts and reach checkpoints to collect coins and earn bonus rewards. Use your hard-earned winnings to unlock new bikes and tracks or upgrade your ride with a larger gas tank, more potent engine or superior tires.
In conclusion, Bike Racing 3 is an exhilarating standout in the motorcycle games genre, combining captivating gameplay strategy with raw speed and thrill. Whether you're new to driving games or an experienced gamer seeking a fresh challenge, it's time you took Bike Racing 3 for a spin.
What are the best online games?