Bike Racing 2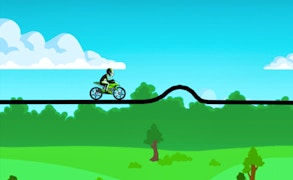 Bike Racing 2
Exploding onto the racing games scene, Bike Racing 2 showcases an adrenaline-pumping experience that's sure to satisfy those with a thirst for thrill. This driving game offers not only fast-paced action but also a thrilling hill-climb racing challenge that elevates motorcycle games to an entirely new level.
In Bike Racing 2, you're not just up against the clock - you're battling gravity, attempting to reach as far as possible without succumbing to a high-speed tumble. The track's challenging environment and endless obstacles promise an intoxicating mix of speed and skill, making it one of the most addictive motorcycle games currently available.
If variety is the spice of life, then Bike Racing 2 serves up a smorgasbord of flavor. Choose from a range of bikes, each having its own unique advantages depending on the terrain - be it scooting over undulating hills or leaping over sandy dunes on a cross-bike. The option to use a beefy classic bike in Arctic conditions adds an irresistible twist to the driving games genre.
Apart from toe-curling races and exciting stunts, this game offers opportunities for strategy too. Collecting coins and reaching checkpoints earns you bonus coins which you can spend on unlocking more powerful bikes or investing in performance upgrades like larger petrol tanks or stronger engines - crucial aids in your quest to beat your own high-score ghost!
In conclusion, Bike Racing 2 brilliantly blends nerve-racking action with strategic gameplay elements, setting it apart from other typical motorcycle games. It's not just about speed; it's about style, strategy, and survival too. If you're looking for a game offering hours of captivating playtime with endless ways to challenge yourself - Bike Racing 2 awaits.
What are the best online games?