Best Emergency Ambulance Rescue Drive Sim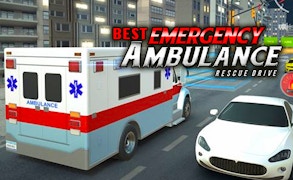 Best Emergency Ambulance Rescue Drive Sim
Speed, precision, and heart-racing moments are the name of the game in the Best Emergency Ambulance Rescue Drive Sim. As a unique entry into the realm of car games, this immersive experience cranks up the adrenaline level as you don the role of a city ambulance driver.
Your mission? To dart through bustling traffic, adapt to ever-changing cityscapes, and master challenging parking games. All while ensuring your patient's safety. This game takes elements from driving games and simulator games, combining them into a captivating cocktail that keeps you on the edge of your seat.
The city is alive, dynamic, and responsive. It has its own heartbeat that changes as you progress through your shift. Expect to encounter sudden roadblocks, unpredictable drivers, and nerve-wracking time limits. It's not just about speed. It's about strategy, skill, and split-second decision-making.
Floor the gas pedal in some of the slickest ambulances around. Prove yourself an amazing city ambulance driver by providing highly efficient city ambulance rescue service round the clock. Accept this exciting driving challenge and make your mark in the gaming world.
This game will challenge your driving skills like no other. It's a high-stakes ride through a bustling city that demands you be both fast and furious in your rescue efforts.
If you have an insatiable need for speed and a burning desire to save lives, then buckle up for this unique driving challenge! With Best Emergency Ambulance Rescue Drive Sim, show off your precision parking skills while executing lifesaving missions under extreme pressure. Feel every bump, swerve, and screech as you fight against time itself in these thrilling simulation-driving mash-up!
What are the best online games?