Battleship War Multiplayer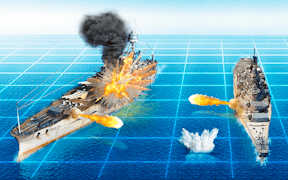 Battleship War Multiplayer
Battleship War Multiplayer
Description
In Battleship War Multiplayer, you are the commander of a powerful fleet navigating treacherous waters. Your mission is to strategically position your ships and eliminate the enemy's fleet before they sink yours. This HTML5 game easily transports you into the heart of maritime warfare, bolstered by unique power-ups that can tip the balance in your favour.
How to play
This game is played entirely using your mouse or touchscreen. Deploy your ships strategically on a grid and fire torpedoes at the enemy's grid to sink their vessels. Progress in the game by accumulating points from successful hits and use these points to buy special power-ups for an advantage in future battles.
Tips and Tricks
Take time to study and exploit enemy patterns. While it may seem intuitive to concentrate firepower, sometimes targeting random spots can yield surprising results. Also, remember to make good use of your power-ups, they can turn the tide when things appear bleak.
Features
An engaging multiplayer online battle experience.
A variety of strategic power-ups available for purchase.
A deep scoring system providing progressive challenges.
Simple interface, easy to learn gameplay with depth complexity for master strategists.
Crisp HTML5 graphics that requires no special downloads or installations.
What are the best online games?