Battleboats.io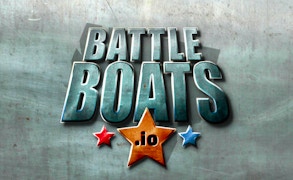 Battleboats.io
If you're a fan of battle games, then there's no way you won't love Battleboats.io! A multiplayer, action-packed naval warfare game that lets you sail through treacherous waters and carry out deadly attacks.
Picture yourself on the rough ocean waves, steering your boat fearlessly and with precision. Your ship floats silently among the multitude of blue ships that lurk ominously within the depths of Battleboats.io. You'll need all your skills to navigate these treacherous waters; one wrong move and it could spell disaster.
The game provides a bounty of resources in the form of mine and ammo crates, which are strategically placed around the field. Using these resources wisely can make or break your game. Fueling your ammunition stocks or increasing your offensive power could make a world of difference when a rival ship is closing in on you.
The aim? Take out enemy vessels! You'll feel the thrill coursing through your veins as you guide your bombs towards them, waiting for that satisfying moment when they blow up into pixelated debris.
A unique twist to this game is attacking enemy bases. This addition brings a tactical edge and depth to the gameplay that sets Battleboats.io apart from other .io games. To succeed, keep in mind it's not just about destruction; it's also about strategy and thinking ahead.
An exciting feature is being able to guide bombs directly towards bases, unleashing a barrage for explosive results! The exhilarating feeling of watching your rivals' base blow up into pieces is both a sight to behold and an achievement to boast about!
In conclusion, Battleboats.io takes simple yet addictive mechanics combined with intense naval combat strategy to deliver one of the most engaging battle games available online. Its competitive nature keeps players on their toes and guarantees every match will be an unforgettable experience.
What are the best online games?
TAGS